Prague is one of my favorite cities in Europe and I'm lucky to live only a 4 hour bus-ride away from it! Hence, I've already been to Prague twice and I'm definitely gonna go there again, but until then I wanna show you my favorite places to visit in Prague! 
1. Charles Bridge
I'm just gonna start off with one of the most obvious ones: Charles Bridge. Charles Bridge is a beautiful bridge that crosses the Moldawa. Standing at Charles Bridge you have to most beautiful view of the Prague Castle, especially at night time. If you haven't gone there at night, or in the evening, yet, I'd definitely recommend it. Also It's a beautiful place to shoot time-lapses, or long exposure pics.
2. Prague Castle
Ok, so this one's obvious again, but the Prague castle is just one of the most beautiful castles I've ever seen. It combines all sorts of stiles and is really overwhelming. Also, you get a beautiful view of the city from up above. Definitely a must see!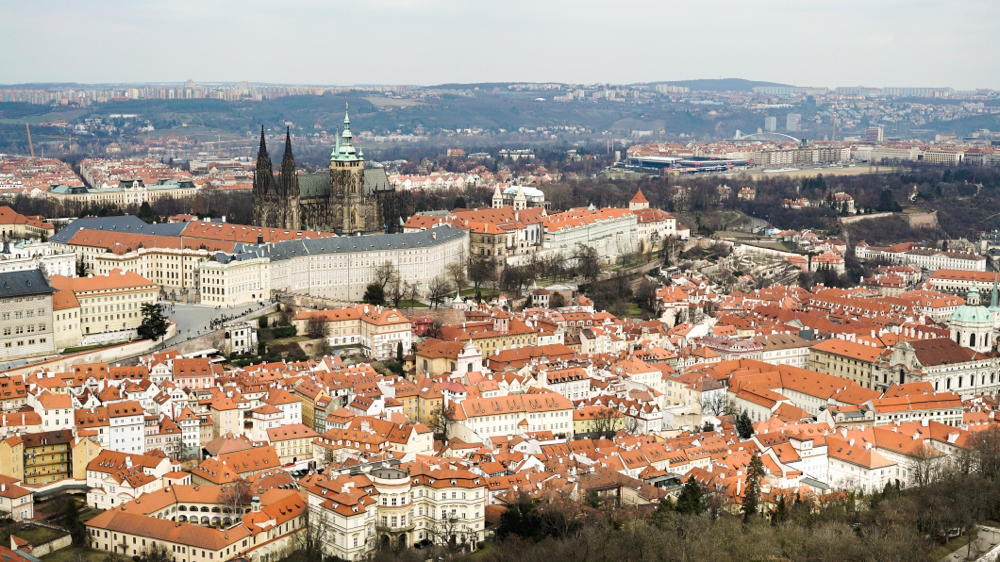 3. Petrin
Petrin is a little hill next to the Prague castle. If you want to get there, you need to take the gondola, which already makes this a really cool experience. Once, you've arrived, there's a lot of stuff to see up there. There's a beautiful huge park, some buildings and a church and a little replica of the eiffel tower, which gives you a great view of Prague!
4. Narodni Muzeum (Retro)
The Retro Exhibition is a really cool exhibition at the narodni muzeum in Prague. It includes almost everything from fashion to kids toys from the past. This way you can experience history in a completely new way. 
5. Prague TV Tower
One of the weirdest buildings I saw in Prague was the Prague TV tower. This is a huge tower covered in crawling babies (?!) which is actually the second ugliest building in the world (well done, Prague). I really liked it though and i'm pretty sure you haven't seen anything like it, yet.
6. Karlovy Lazne
Prague can't only brag with the world's second ugliest building, but also with europe's biggest club. Karlovy Lazne is an enormous 5 floor club. Every floor has it's own theme, so the music, the ambience, decoration and etc. are different in every floor. Definitely a cool experience.
7. John Lennon Wall
The John Lennon wall is definitely Prague's most famous wall. It's covered in beautiful artworks, John Lennon lyrics and all kinds of wishes for peace. Once, the wall was actually painted completely white only leaving the message "WALL IS OVER", but people started repainting it soon, adding even more beautiful lyrics and artworks!
8. The Moldawa
This is not only a place, but if you are in Prague for a short period of time I'd suggest taking a guided ferry at the Moldawa. You get to see all kinds of beautiful buildings along the Moldawa and also it gives you a pretty good overview over Prague and it's history in an interesting way.
9. Kafka Museum
Last but not least I really loved the Franz Kafka museum, it's a small museum next to Charles Bridge that tells Kafkas story perfectly. It's ambience is really dark and mystical and I just love how this building  narrates his life in such an artsy way.